Browsing articles in "Delicious Foods"
The other weekend, on a lovely early Fall morning I took a walk to the Farmers Market. The fantastic fresh food extravaganza just so happens to be about a block from my house and occurs every single Saturday morning. It's pretty excellent. As I entered the street lined with tents containing bins over bins of potentially amazing meals, I was overwhelmed with an intense need to buy Asian Pears. This was probably as a result of the five foot two latina woman screaming in my face, "EVERYTHING $1 A POUND! PEACHES, JALAPENOS, NECTARINES, ASIAN PEARS!" At that point I did a double take, asian pears for $1 a pound? You crazy! That's a damn good deal. I'll take 5 pounds.
The next day with my hords of asian pears staring me in the face I decided to make a pear butter first, then would eventually decide what to do with it after.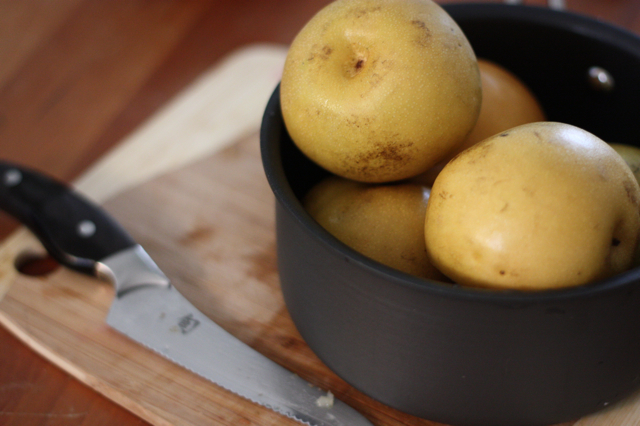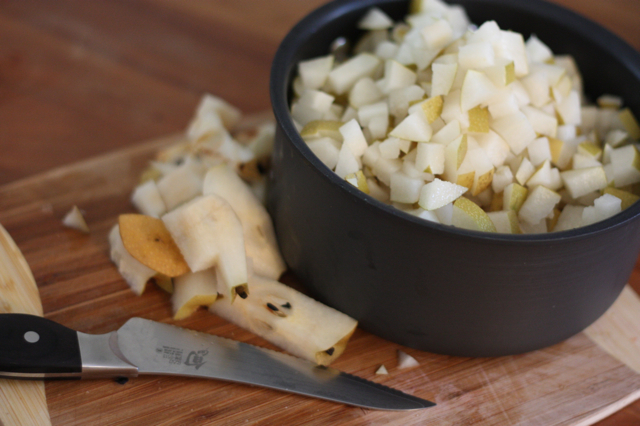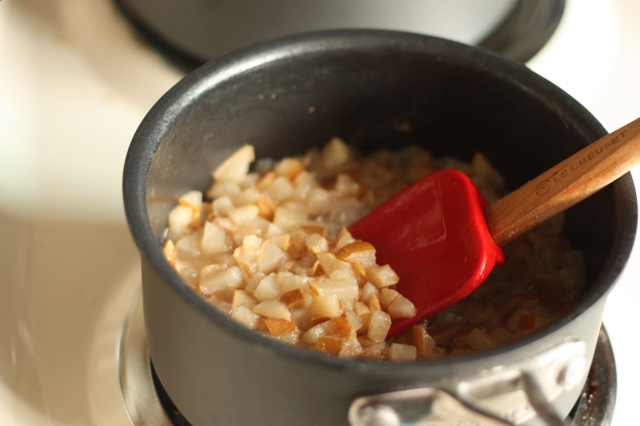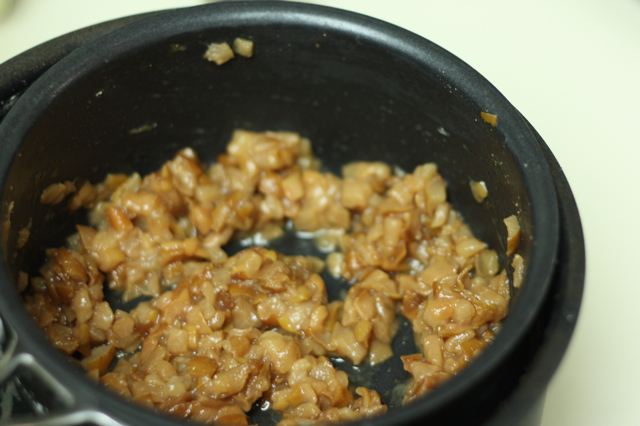 When the delicious, caramelly pear butter was finished I happened to have the oatmeal canister hanging out on the kitchen counter. I glanced at the back, and there was a recipe for Oatmeal Apple Muffins. "Nice," I said, "I've been meaning to start learning how to bake. Now's an excellent time to start!" My kitty Sammy meowed back in approval. He's very supportive.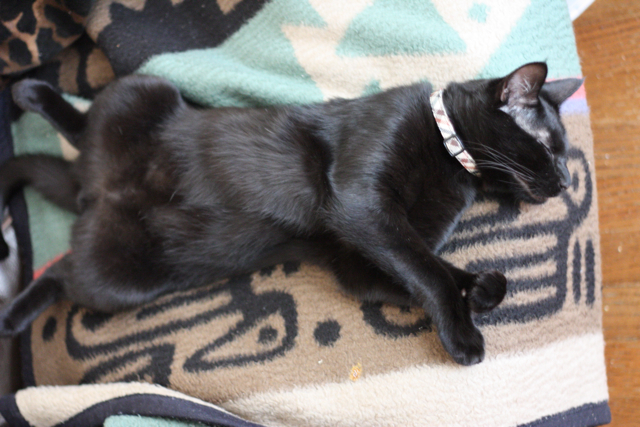 So I devised a plan, I would substitute the white flour in the recipe for whole wheat white flour, which I had for making rues and such, I would substitute my pear butter for the apple sauce, and I would add slivered almonds. I have been advised not to try to vary recipes too much when it comes to baking, so that's all I changed. "Let's get baking!" Sammy meowed back in a way I can only describe as ecstatic.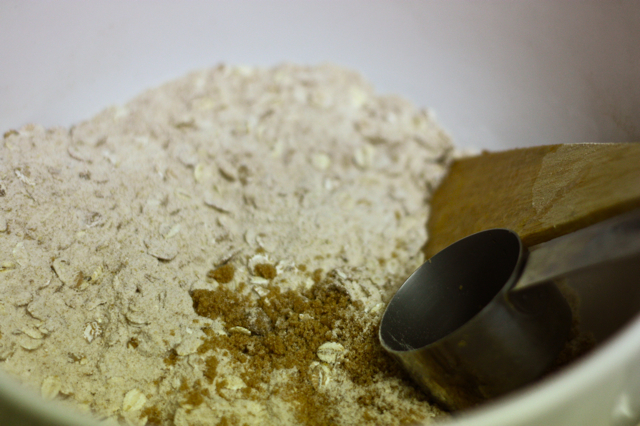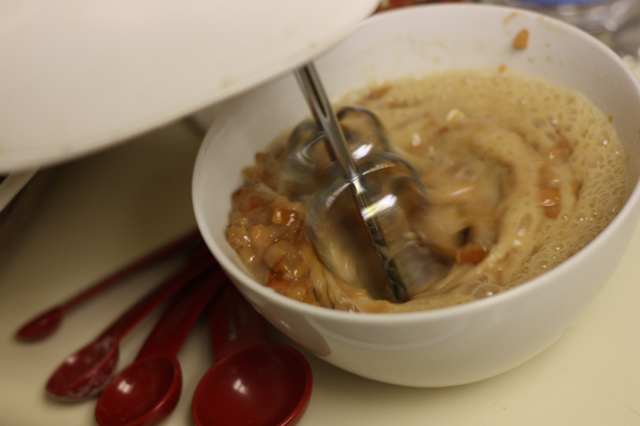 Mixy, mixy…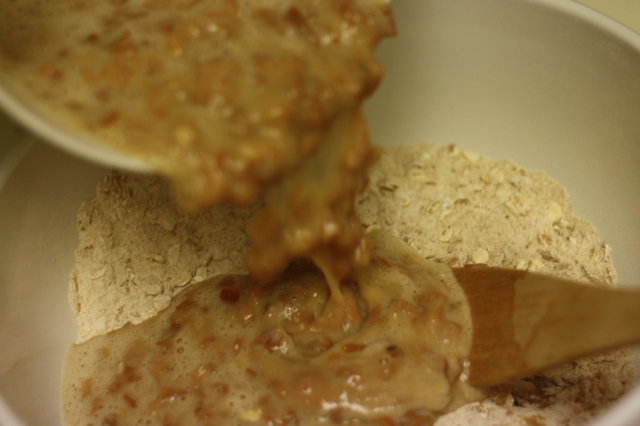 Lubricate then stuff the muffin tins…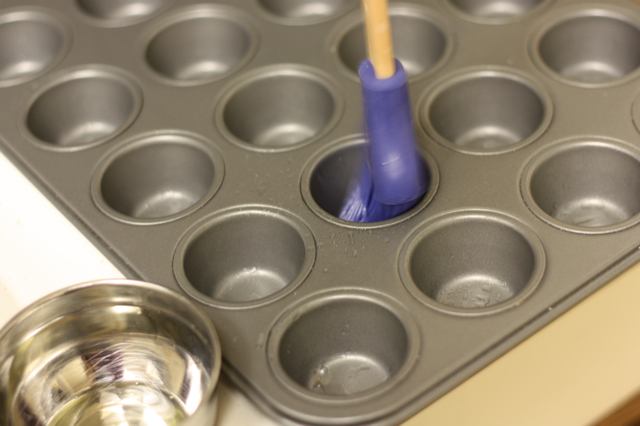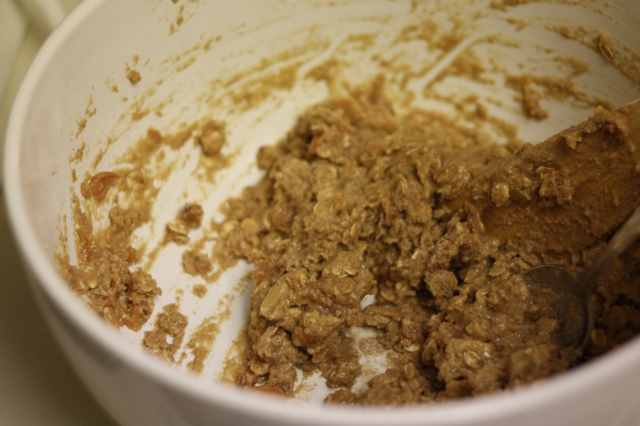 …that's what she said.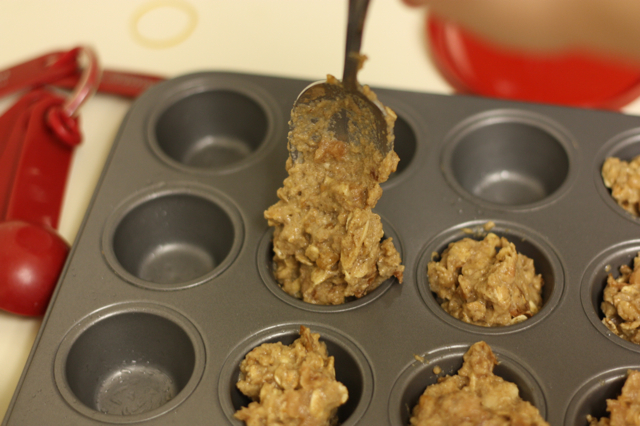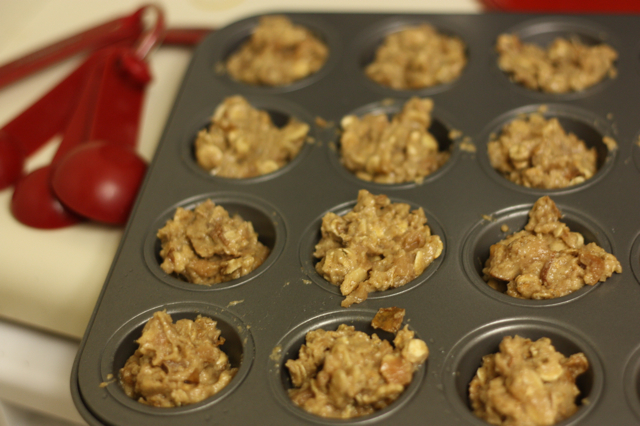 And then, BAM! Mini muffins!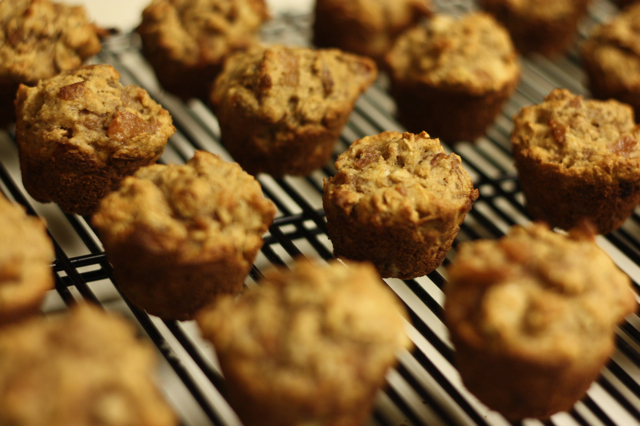 The results were super duper excellent, but I have a couple of improvements for next time. I didn't want to end up eating all of them, so I brought most of them to work the next day. My co-workers confirmed that they were in fact tasty and ate them all.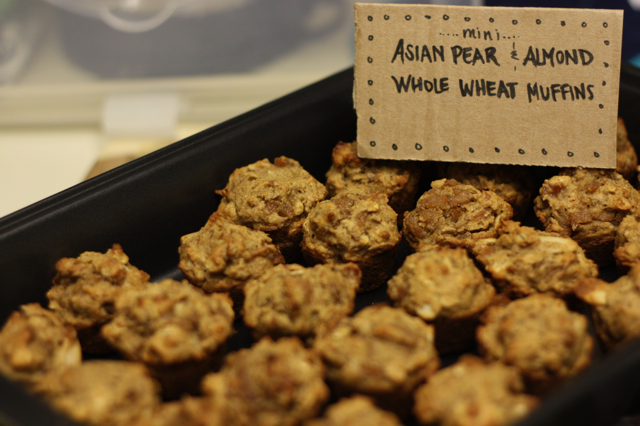 It was a successful baking experience and I will definitely do it again sometime soon. Maybe next time I'll try something savory and with bacon.
What do you think of when you think of October and Fall? A 4th of July BBQ in Washington DC! Ok, maybe not, but I haven't been posting for a while and I had very busy summer. Please forgive me.
OH! Another quiz! What do you think of when I say a grill, ketchup, mustard, relish, buns, and long skinny delicious food?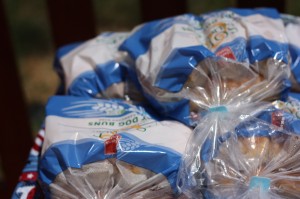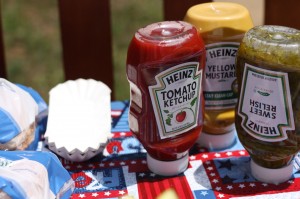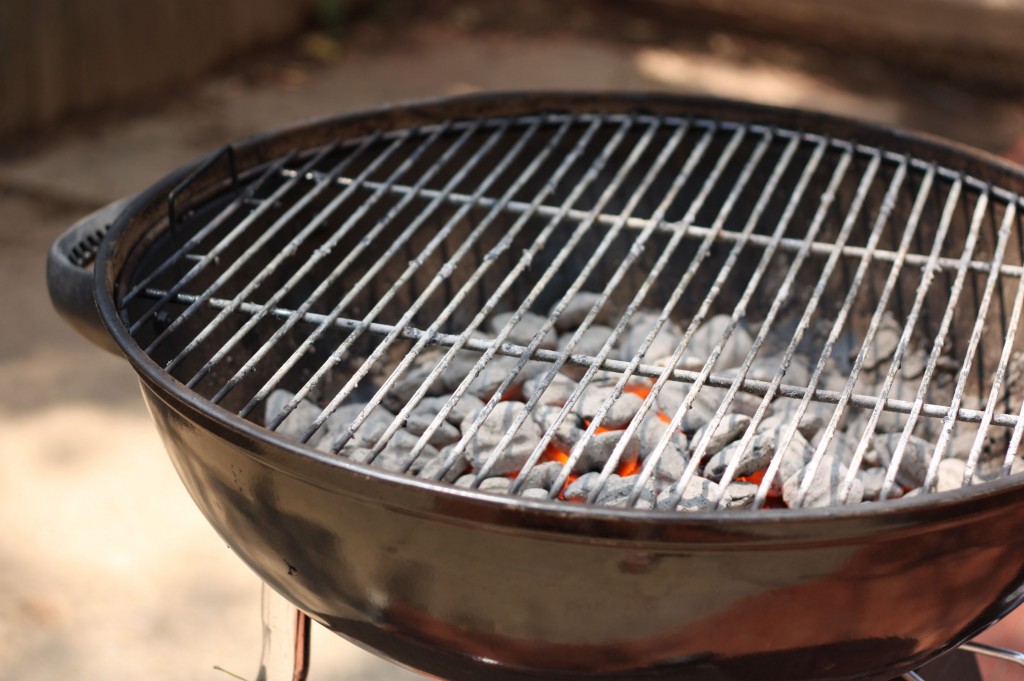 SQUASH! Eeeeeeeee! Fresh from the Baltimore farmer's market! I went to visit my girlfriend Alison in Baltimore over the 4th of July weekend and some of my college friends from all over happened to be in Washington DC. They sent over a messenger pigeon with an iPhone strapped to the ankle. After resuscitating the bird from severe exhaustion I picked up the phone and surprisingly I had a text from my good friend Amalia. She invited me to a BBQ at my other friend's house in DC. I was so excited, and after a brief happy dance and a Zipcar reservation Alison and I were on our way.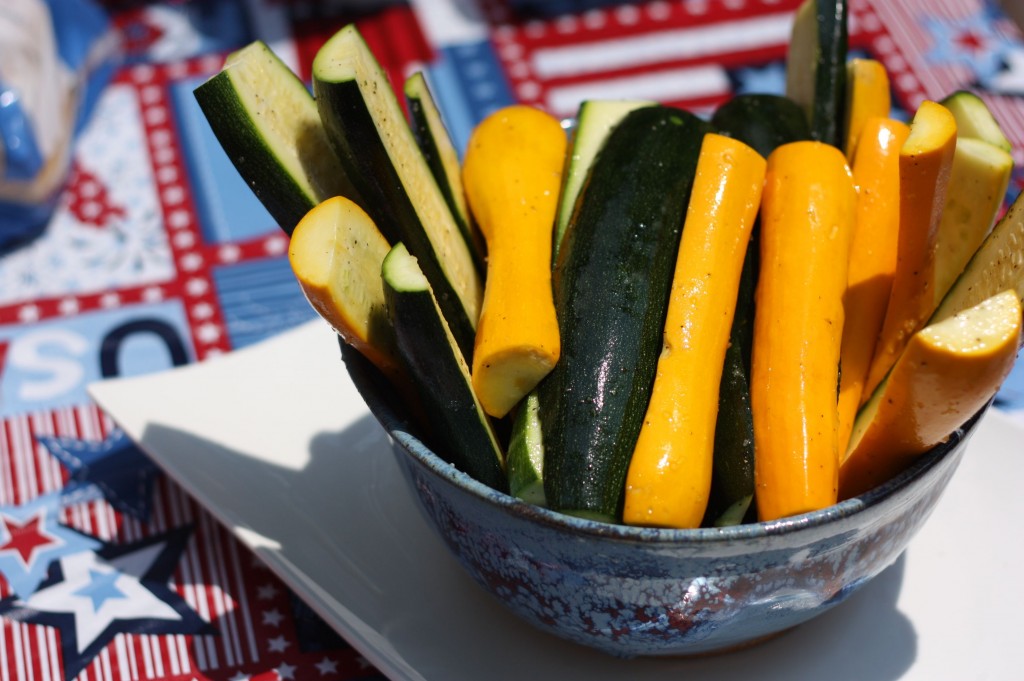 We brought the massive amounts of gorgeous organic, summer squash from the farmer's market to the BBQ assuming there would be plenty unhealthy supplemental food to nosh on. When I arrived at the house I promptly found a knife, olive oil, salt, and pepper, washed and halved the squash, then slathered the pieces in the EVOO, S & P. I headed out back, tongs in hand, and grilled the halves of bright green and yellow delicousness in a matter of seconds over the ridiculously hot coals. Long story short, they turned out amazing and everyone really enjoyed the fresh alternative.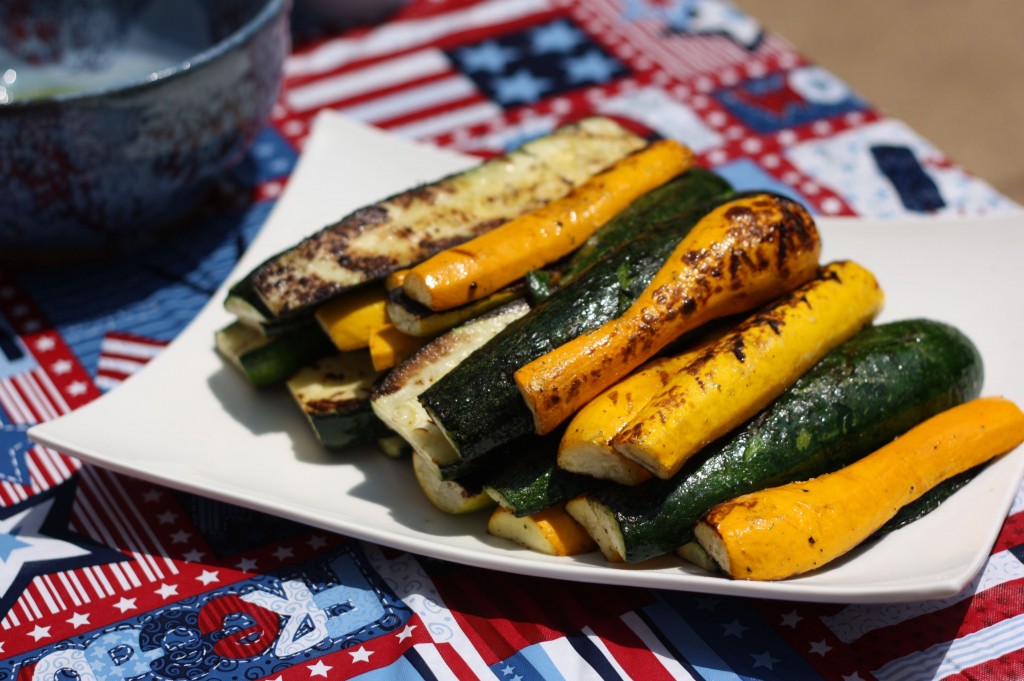 The beautiful summer squashes were simple, sweet, toasty, and amazing! I died and went to patriotic squashy heaven.
I started this site in Cambridge, Mass on my couch just after departing from my horrid, horrible, horrific, horrifying job. I did a lot of soul searching, and I didn't have to search far to realized I effing love to cook. I love the smell of food cooking, I love chopping things for hour sometimes, I love the first bite, I love constantly washing those bits of parsley off my hands, and I love the little groans of pure pleasure from the people eating my food when I know I've cooked something amazing. I love cooking.
The first thing I remember making was for my mother. She was sick in bed and asked me to make her something because she was hungry and couldn't make it for herself. I went into the fridge and pulled out what I knew… bologna, american cheese, and white bread.
With the ingredients for what could potentially be my make or break my debut into the culinary arts infront of me I didn't want to disappoint. I pulled out the first piece of bread and placed it gingerly on a beige plate dawning a light blue rim and a delicate pink lily in the center. I opened the bologna, folded the yellow molded plastic back I laid the perfectly round slice of meat on the perfectly white slice of spongey, cake bread. (I'm embellishing of course, and lets be honest I was a kid and didn't pay THIS MUCH attention to what I was doing. Or did I? Lets continue the story.)
With the bread and meat together the next step was to unwrap the american slice of, that's right, square perfection and lay it centered on top. But at that point I thought, why does this have to be the end? If there are two pieces of bread, why shouldn't there be two piece of cheese and two of meat? I layered another piece of round then square alternating because I thought it would be prettier. I placed the second slice of bread on top not thinking to moisten the sandwich with mayo or mustard, but focusing on my final objective. I found a butter knife in the silverware drawer and cut the sandwich in a bias like I had seen my father do many times before.
I carefully walked my masterpiece to my mother's bedside smiling gleefully like my beloved Teddy Ruxpin. My mother, still sick in bed, see's my exuberance and perks right up. I hand her the lily plate with my debut culinary experiment. She eyes it returning my smile and tells me it's beautiful and what a great chef I was. She said chef! I didn't know what it was at the time but I knew it was a compliment. I was a chef with her first success. After that I never stopped trying to make people smile with food.
What does this have to do with my salad? Not much really, but it was my foundation, the thing that I remember over and over again when people groan and smile with pleasure I make them something they enjoy.
Without further delay, this is my take on a Cobb Salad: Home grilled, air chilled, local chicken, brined in molasses, salt, peppercorns, garlic, and hungarian paprika, thick cuts of crumbled local bacon, local manchego style cheese, and home grown heirloom rainbow tomatoes. The farmer's market lettuce was tossed in a homemade, whole grain mustard and brown sugar vinaigrette. It was delicious, and my girlfriend groaned and smiled when she ate the salad. I was happy.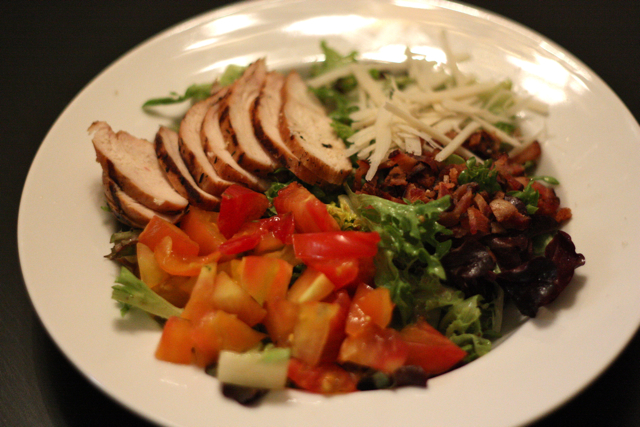 We paired the salad with a collaboration charity beer between Baird, Ishii, and Stone called Japanese Green Tea IPA, all proceeds go to help Tsunami victims in Japan. It was light and refreshing, but also deep and complex with a slight sweet and tea flavor. It went perfectly with the salad. We had a true California fusion combination, Japanese and American foods/drinks coming together.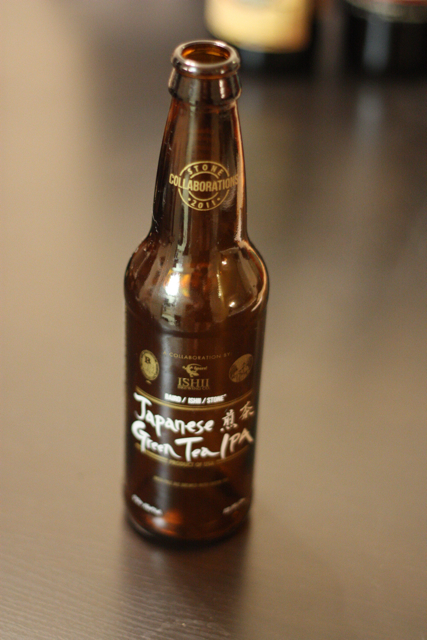 [ I'm not doing a cartoon this time because I gave you a nice story. Hopefully next time! ]
Is it cold and dreary outside? Have you had a hard day and need a little boozy booze? That's how we felt so I made a warm cocktail that will make you feel hot and spicy! BAM!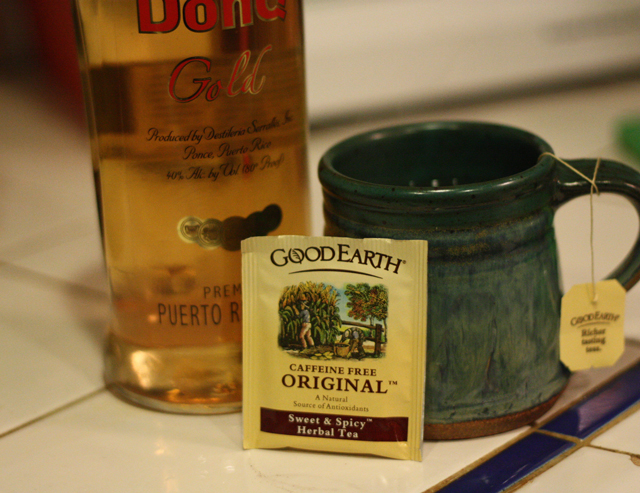 Hot and Spicy Toddy, is my new favorite winter warmer cocktail. All you need is some "Sweet & Spicy" tea made by Good Earth, either caffeinated or caffeine free, some good Rum, and honey. We recently received a bottle of Don Q Rum all the way from Puerto Rico via a generous co-worker, then I found the perfect application. Thanks Miguel!
The secret to this drink is to let the Tea steep for as long as you can wait because the longer you wait the better it tastes. Then mix in the honey and add the rum at the end. Now drink up!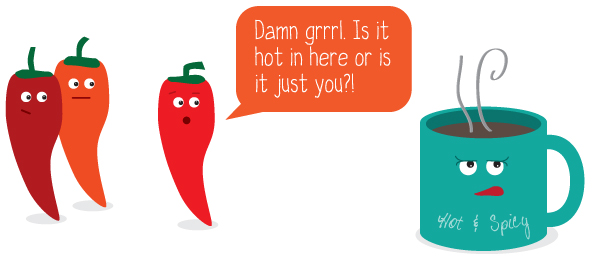 This glorious Italian Wedding type soup was incredibly flavorful and I'm definitely going to make it over and over again. I say it's an Italian Wedding TYPE soup because I used turkey for the meatballs and bulgur wheat (that grain in tabouli) instead of pasta. I also made my own chicken stock, which has become my new favorite past time since I got my pressure cooker!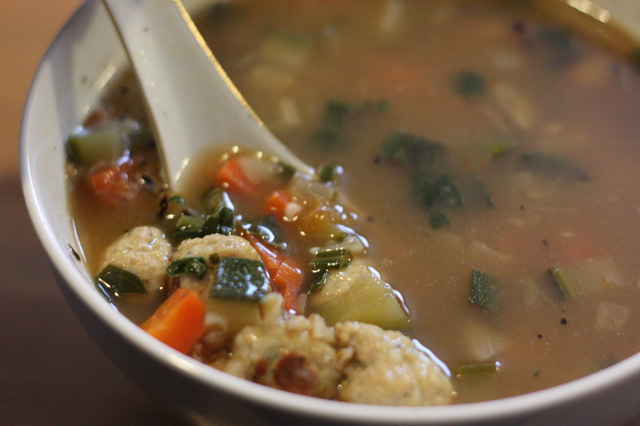 Mmmmm, look at that. I wish I had more now.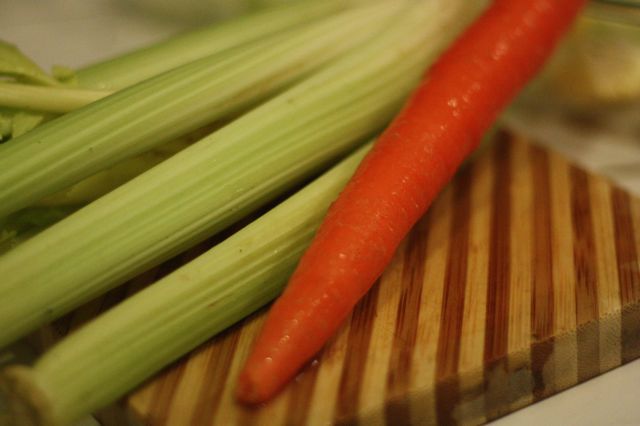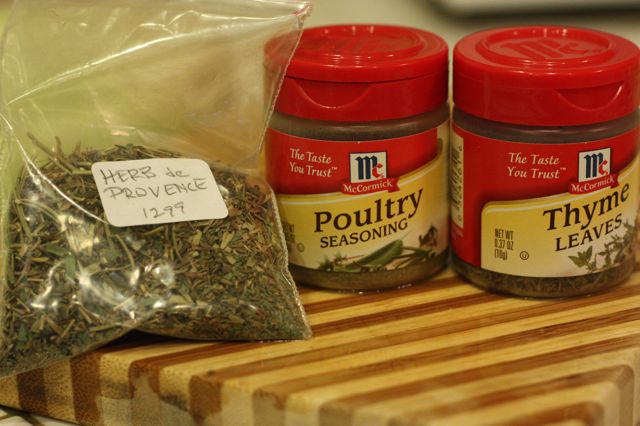 Ooooooo fresh veggies and seasonings! I used Herb de Provence which is a mixture of savory, fennel, basil, thyme, and lavender flowers, poultry seasoning which is a mixture of thyme, sage, marjoram, rosemary, black pepper, and nutmeg, and I used some more thyme because who doesn't love thyme?! These herbs went all over the veggies and chicken I roasted for the stock…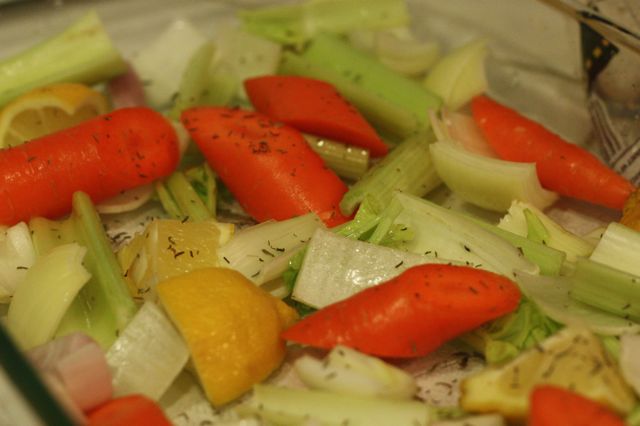 Carrots, celery, shallots, onions, garlic, and a whole lemon cut up were the base for the chicken to roast on.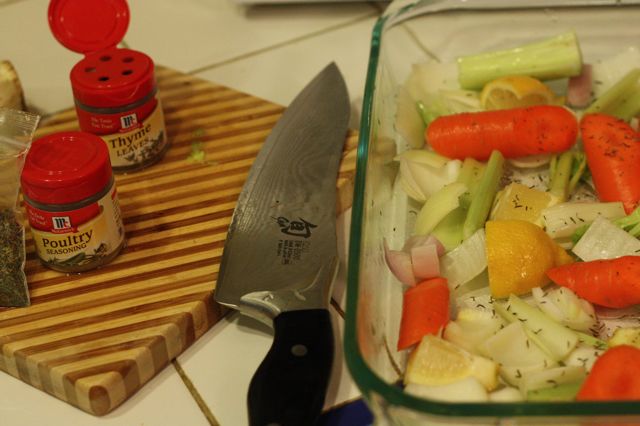 Le sigh, look at my pretty knife! Shun's are excellent, I recommend them.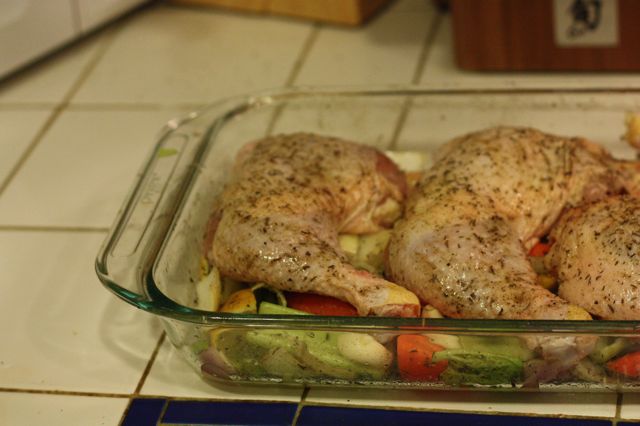 I roasted three attached leg + thigh pieces for the stock until golden brown and the inside reaches 165 degrees.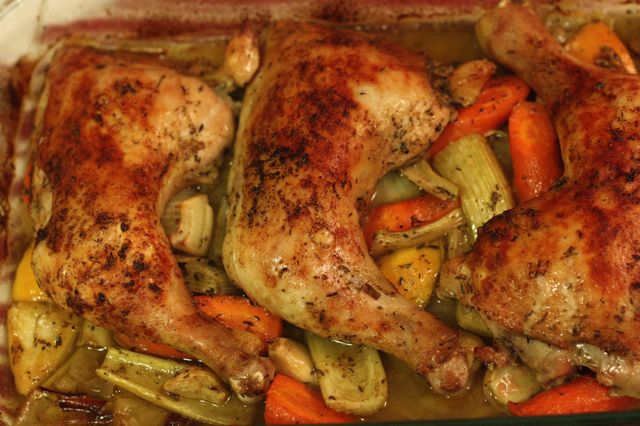 The chicken turned out so juicy and scrumptious that I almost didn't make stock out of them. I finally made the stock but I definitely picked at the chicken a bit before.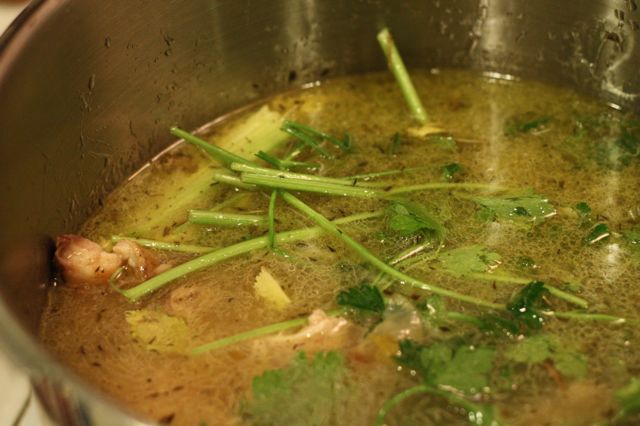 I put all of the roasted veggies with the chicken (minus my snack potion) with some extra raw onions, couple cloves of garlic, a celery stock, 10-12 black peppercorns and a couple of whole all spice berries into the pressure cooker and cooked on the high pressure setting for about a hour. Then after straining the stock and seasoning with salt and pepper I had a SUPER DELICIOUS chicken stock. Mmmmm!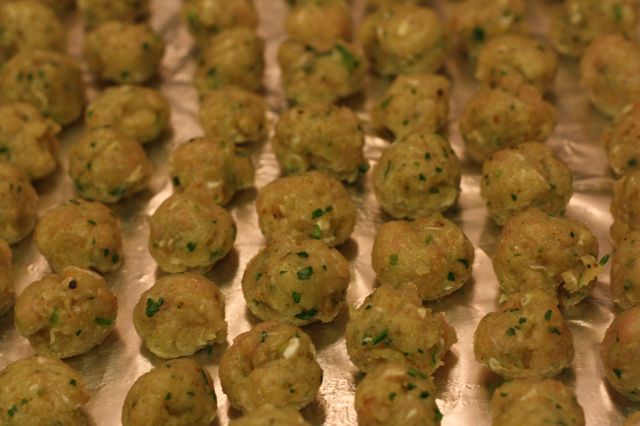 Then I made tiny turkey meatballs with a bit of the chicken fat from the soup, parsley, garlic, shallots, bread crumbs and salt & pepper.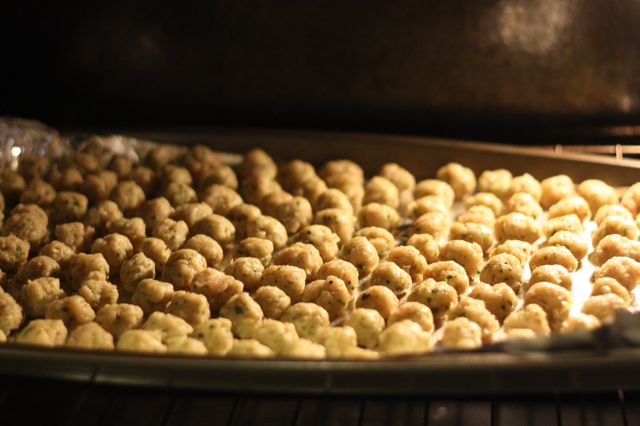 I baked these until golden brown instead of pan frying them because there were sooooo many that would have taken fooooorreeevvveer.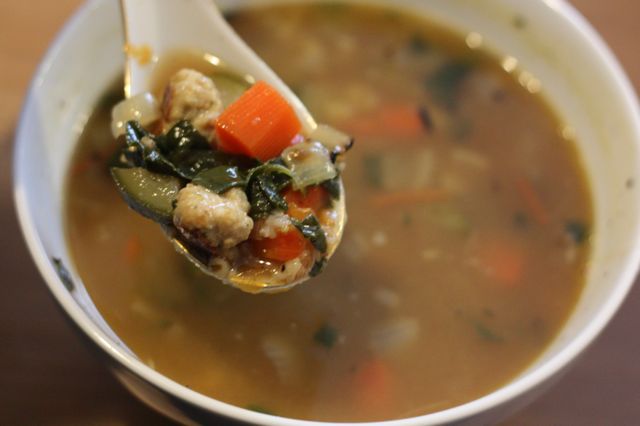 Italian Wedding Soup (Kinda). Then into the stock went the bulgar wheat which I cooked until tender. I then added diced carrots, diced zucchini, diced onions, chopped fresh spinach, fresh parsley, and last but not least the tiny turkey meatballs at the end after all the veggies are cooked.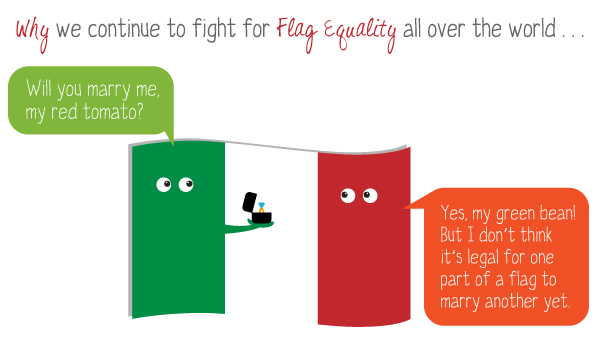 California Cheddar Eggs Benedict. I recently bought a couple of cute egg poachier spoon thingys from Crate and Barrel and felt inspired to make eggs benedict. I was too lazy to make hollandaise sauce so a I made a cheddar béchamel to go on top of the poached eggs with fresh sliced tomatoes and creamy avocado. Delicious!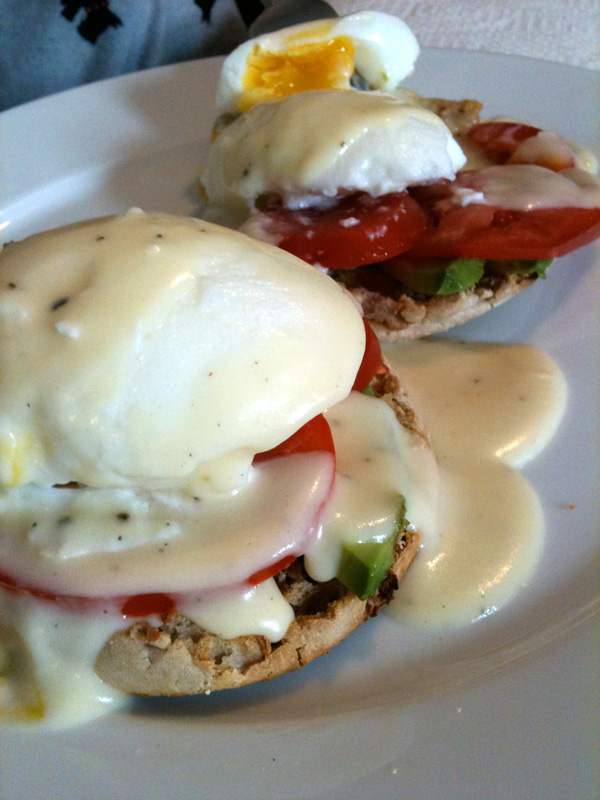 Alison and I decided to make pizza. She made the dough since, as a side job, she worked as a cook at a pizza shop for a couple of years. She can even spin the dough in the air!
Then I made all toppins. This creation turned out amaaaazing! No joke. The sauce was a homemade fig chutney, and I topped it with goat cheese, fresh mozzarella, caramelized shallots, roasted acorn squash, fresh chopped garlic, and thyme.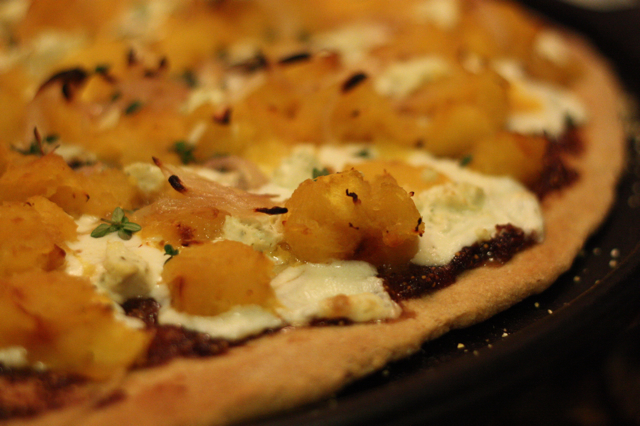 Glamor shot of the Fig, Acorn Squash & Goat Cheese Pizza!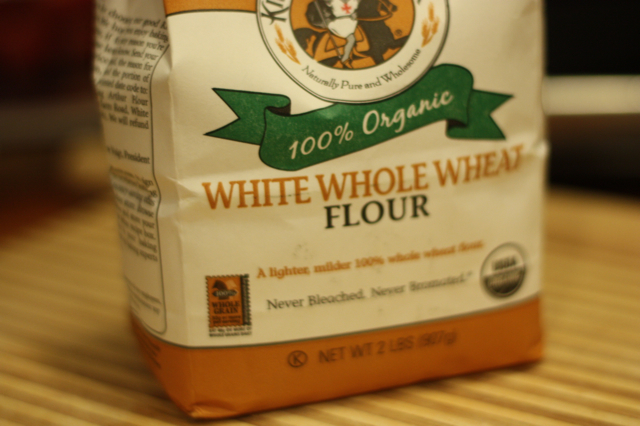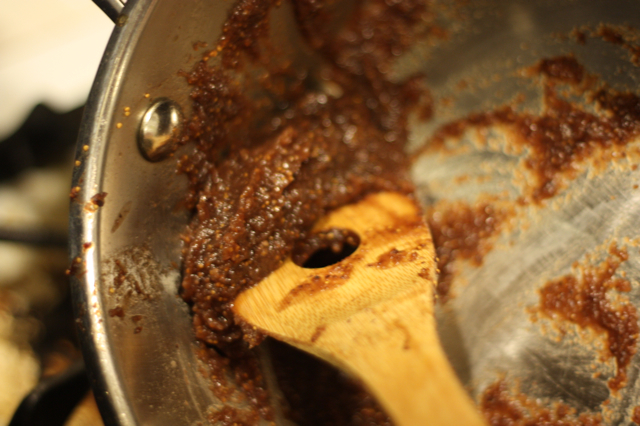 We used white whole wheat flour, which was a new thing for us. The fig chutney was just chopped figs rehydrated with garlic, salt, and ginger (I think, look up a recipe if you're a stickler for detail)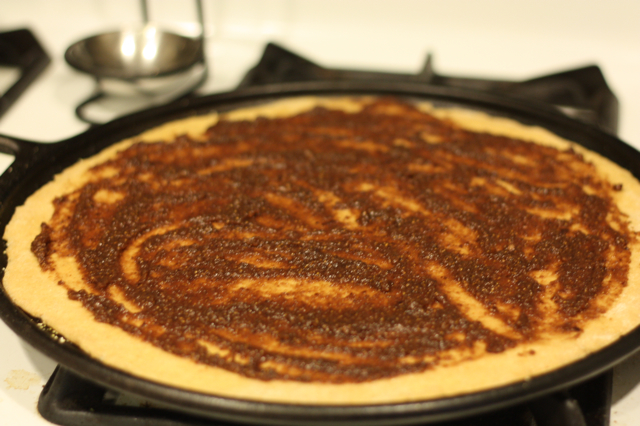 Now spread it out!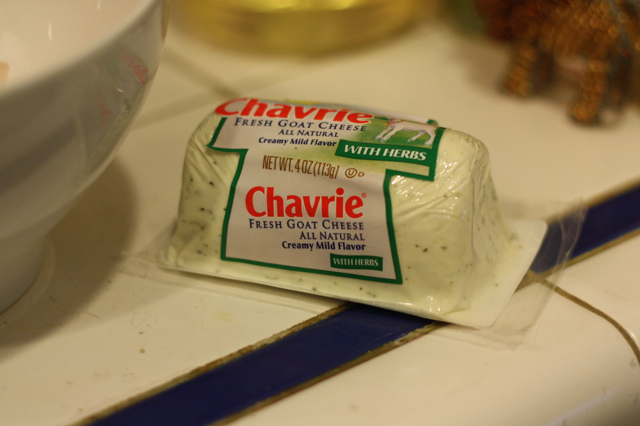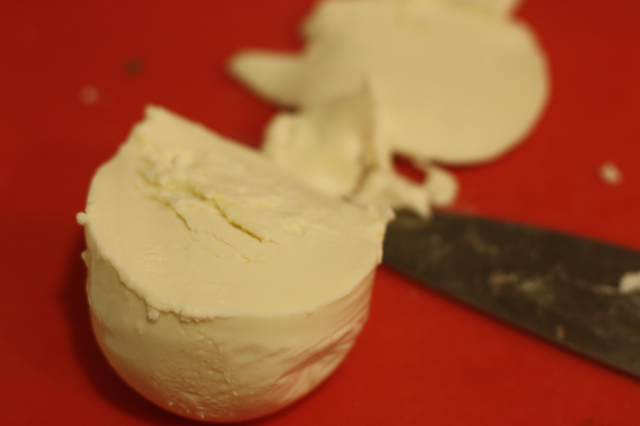 Goat cheese and fresh mozzarella. Nom!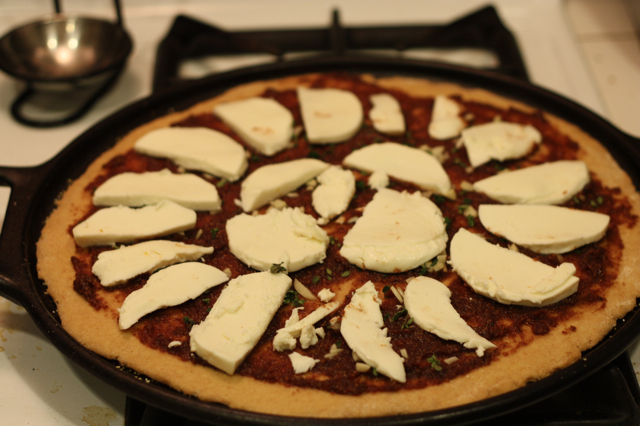 Now lay it out! With some fresh thyme and minced garlic.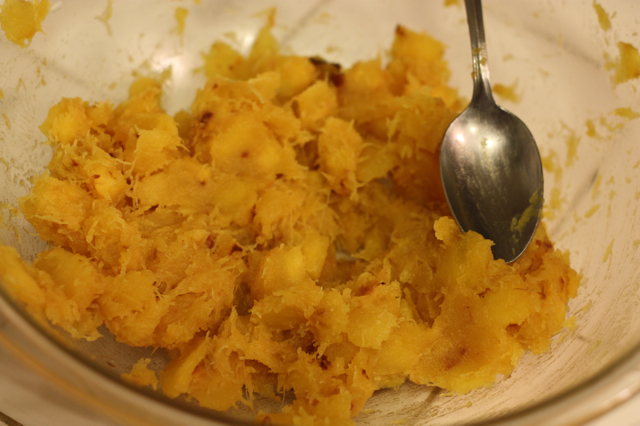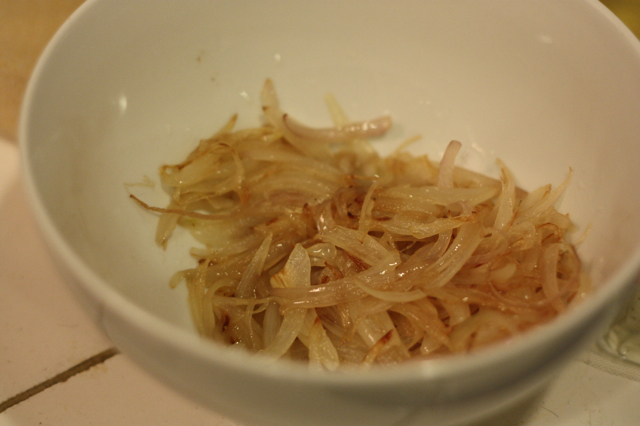 Roasted halved acorn squash, scooped it out, dice it and mix it with butter. Caramelize the shallots with some salt and butter. Get some good butter and use it sparingly with canola oil and you won't need to use too much for lotsa flavor.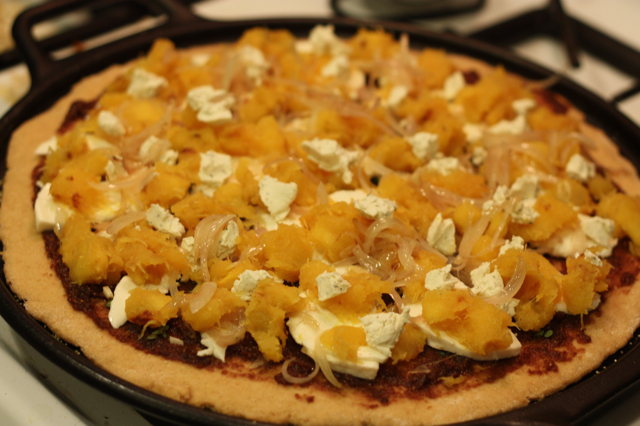 Now put them toppins on!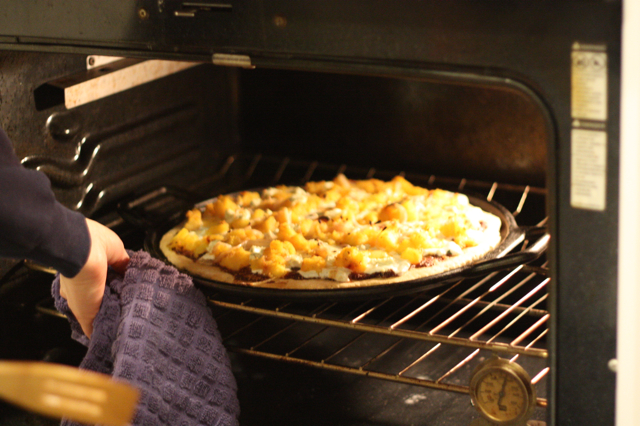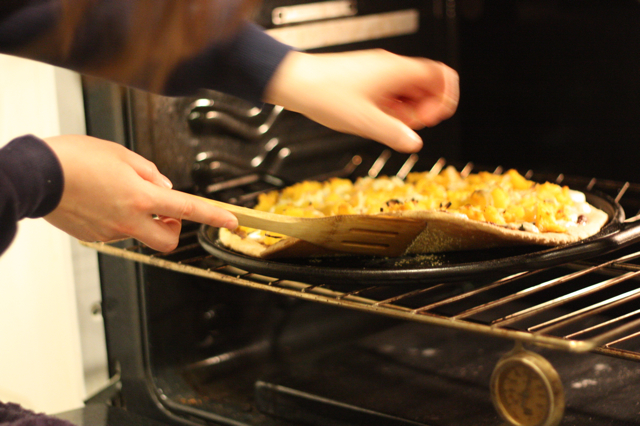 Bake at 400-500 degrees depending on how you want the crust to turn out. I use a cast iron pizza pan which makes me feel both fancy and rustic.
Make sure not to burn the crust. It will keep cooking and crisping after you take it out of the oven.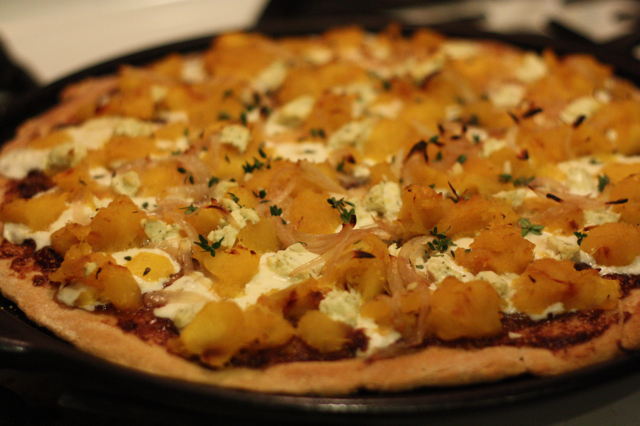 Fin! Fig Chutney, Acorn Squash, Caramelized Shallots & Goat Cheese Pizza.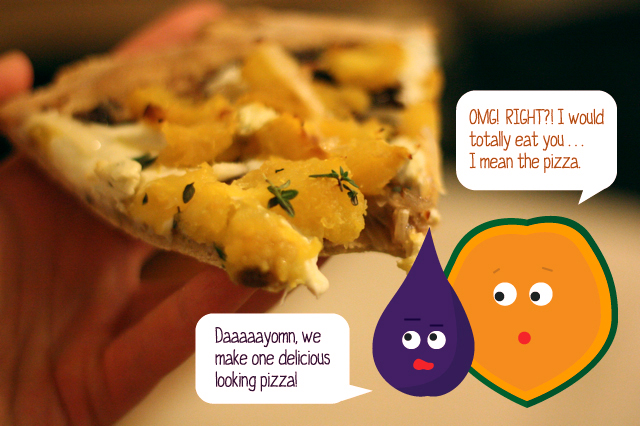 This is the first time I've made roasted cornish game hens. They were sooo delicious! To go with the scrumptious birds I made a tasty garlic gravy from the drippings, a fresh blueberry and mixed greens salad, and creamy brown rice zucchini risotto. Om nom nom nom!
Take a look…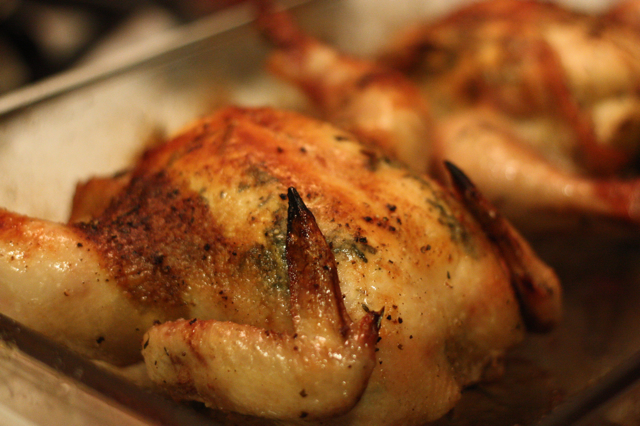 Garlic Roasted Cornish Game Hems. These two hens were roasted at 375 degrees until golden brown and the meat was at 165 degrees. I seasoned the outside with salt and pepper with olive oil and butter and stuffed a salty parsley, butter, garlic & shallot mixture between the meat and skin on the breasts. Last minute I threw about ten cloves of garlic at the bottom of the pan to get all roasty and squishy.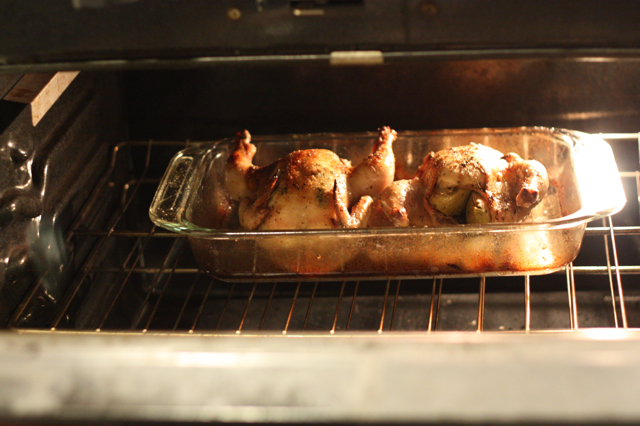 PEEK-A-BOO!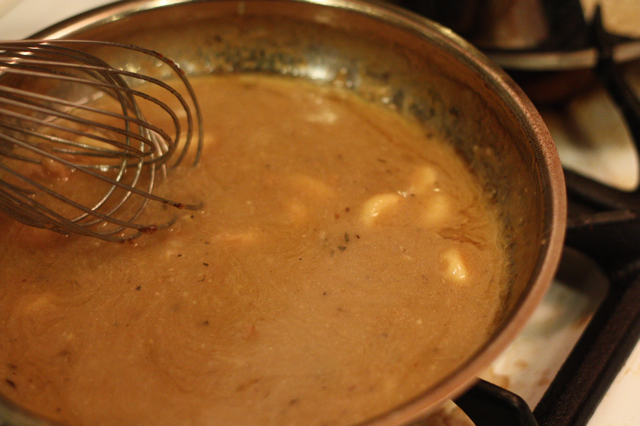 Mmmm gravy. I just made a simple gravy foam the drippings and some sherry using a roux.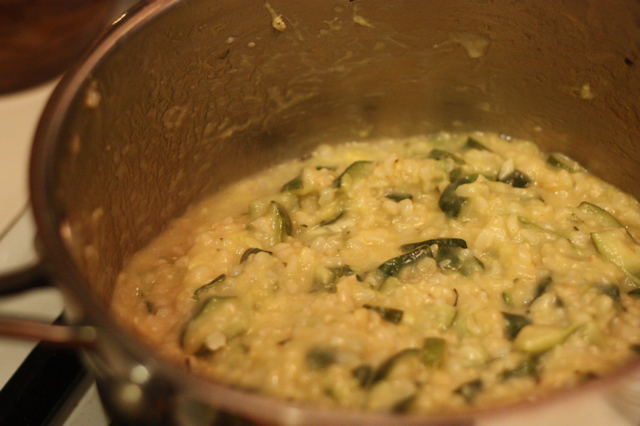 Brown Rice Zucchini Risotto. Made some risotto out of left over brown rice, chicken stock, zucchini, shallots, thyme, and parmesan. I just cooked he risotto on medium low, stirred until it was creamy, I added the parmesan and zucchini in closer to the end so the zucchini would get to squishy and the parm wouldn't burn. So good and easy!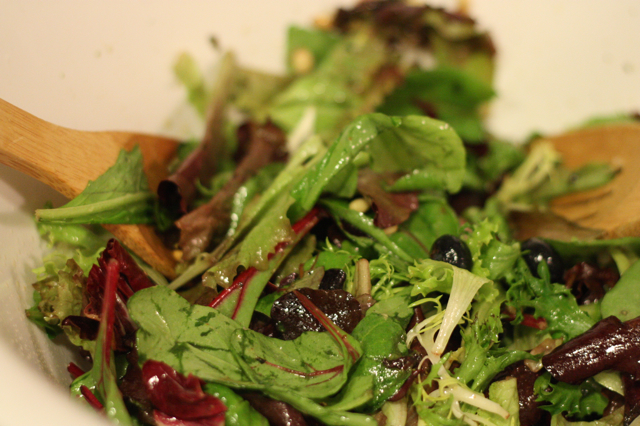 White Balsamic and Blueberry Salad. Sooo easy and delicious. White balsamic and extra V olive oil dressing with some mixed greens, blueberries, and pine nuts. I've gotten into the habit lately of putting pine nuts in EVERYTHING! Who doesn't love pine nuts?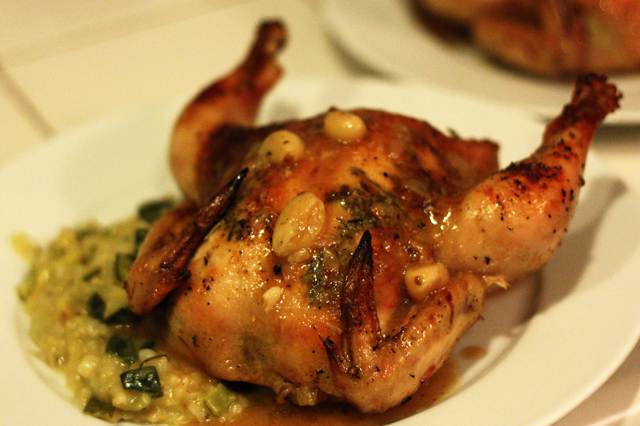 Now put is all together. Look who came for came for dinner!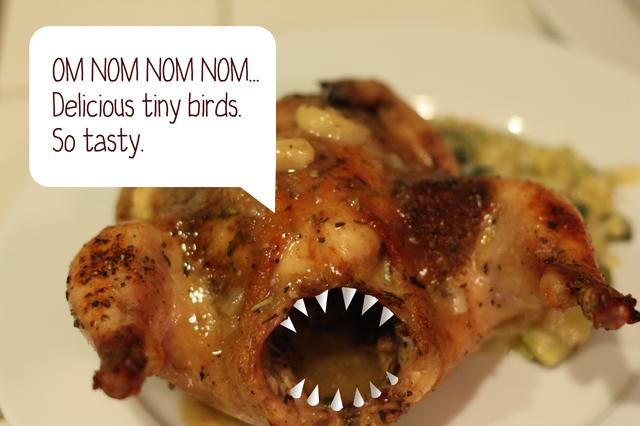 Meet Hungry Hen-rietta. She will eat your foods!
After we finished the the yummy cornish hen bits I made a stock out of the left over bones. All it takes is a couple of carrots, onions, stocks of celery, and some thyme and parsley. Slap these all to gather in your handy pressure cooker (or stock pot) and you have a base for tomorrows meal. I made Matzo Ball soup!
You need to know…
I'm a graphic designer by trade and a cook by hobby.
I've just moved back to my home state of California from Boston, Mass. My array of available fresh ingredients has just multiplied like a group of happy bunnies.
I will cook anything and everything. I also like to eat, a lot! Let me show you what I'm cooking and eating.
What's been cooking…