Browsing articles tagged with " garlic"
This glorious Italian Wedding type soup was incredibly flavorful and I'm definitely going to make it over and over again. I say it's an Italian Wedding TYPE soup because I used turkey for the meatballs and bulgur wheat (that grain in tabouli) instead of pasta. I also made my own chicken stock, which has become my new favorite past time since I got my pressure cooker!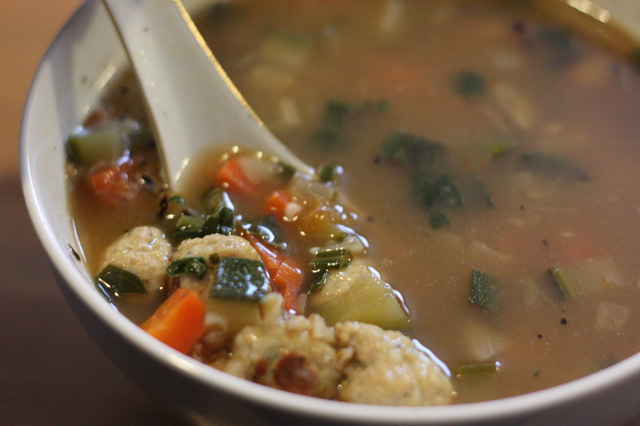 Mmmmm, look at that. I wish I had more now.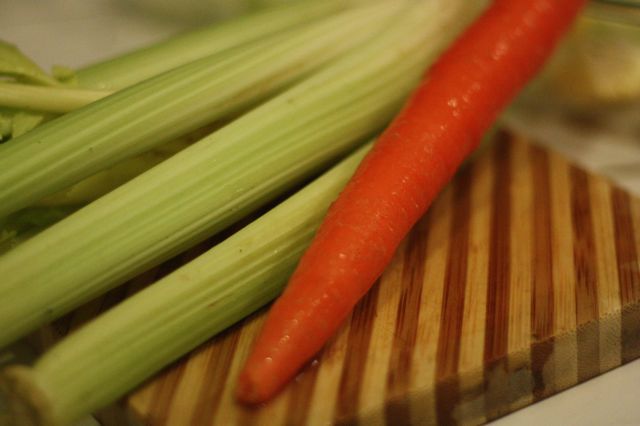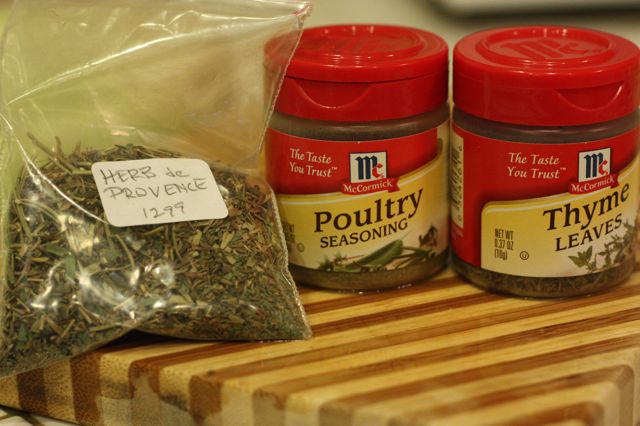 Ooooooo fresh veggies and seasonings! I used Herb de Provence which is a mixture of savory, fennel, basil, thyme, and lavender flowers, poultry seasoning which is a mixture of thyme, sage, marjoram, rosemary, black pepper, and nutmeg, and I used some more thyme because who doesn't love thyme?! These herbs went all over the veggies and chicken I roasted for the stock…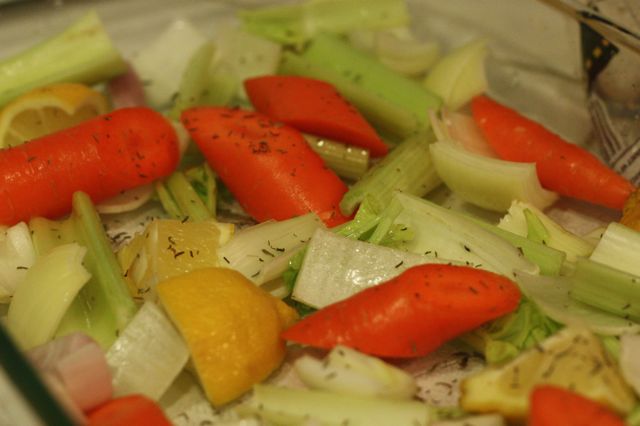 Carrots, celery, shallots, onions, garlic, and a whole lemon cut up were the base for the chicken to roast on.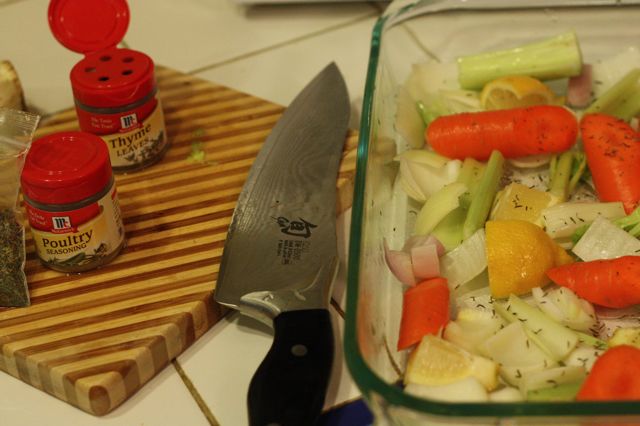 Le sigh, look at my pretty knife! Shun's are excellent, I recommend them.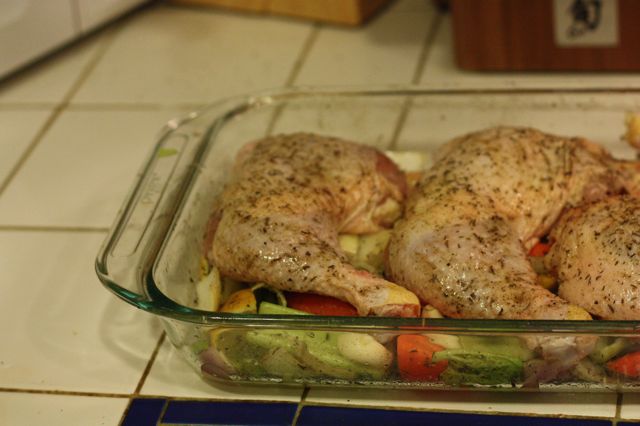 I roasted three attached leg + thigh pieces for the stock until golden brown and the inside reaches 165 degrees.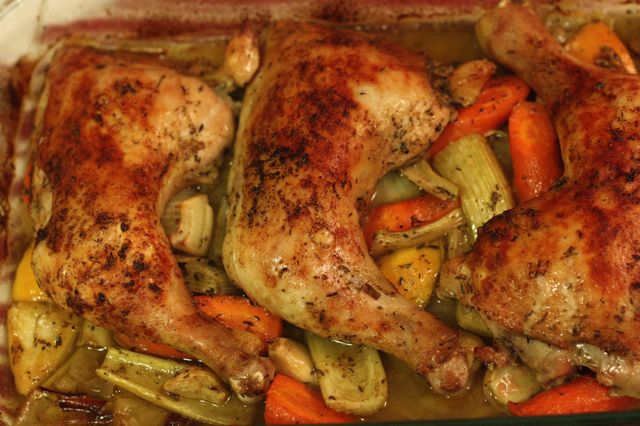 The chicken turned out so juicy and scrumptious that I almost didn't make stock out of them. I finally made the stock but I definitely picked at the chicken a bit before.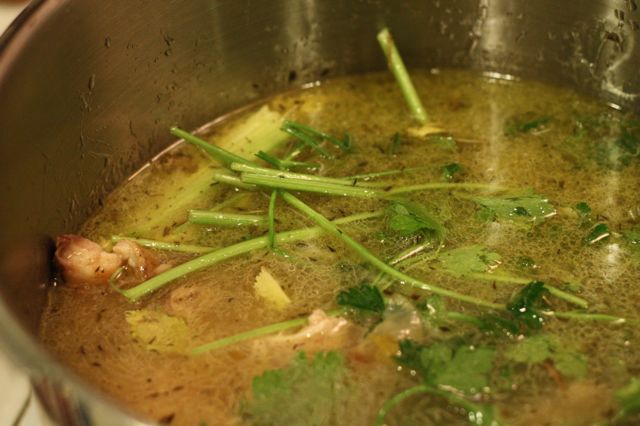 I put all of the roasted veggies with the chicken (minus my snack potion) with some extra raw onions, couple cloves of garlic, a celery stock, 10-12 black peppercorns and a couple of whole all spice berries into the pressure cooker and cooked on the high pressure setting for about a hour. Then after straining the stock and seasoning with salt and pepper I had a SUPER DELICIOUS chicken stock. Mmmmm!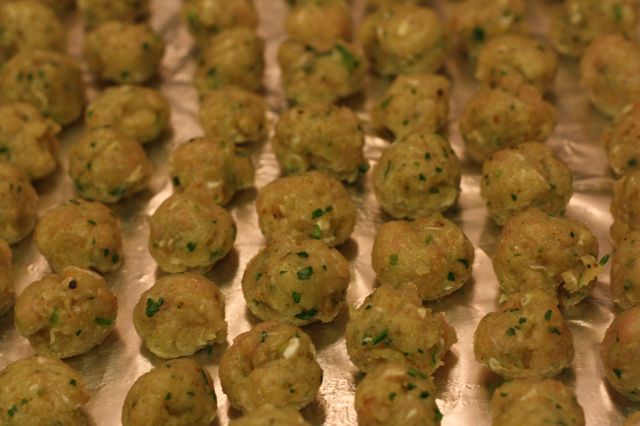 Then I made tiny turkey meatballs with a bit of the chicken fat from the soup, parsley, garlic, shallots, bread crumbs and salt & pepper.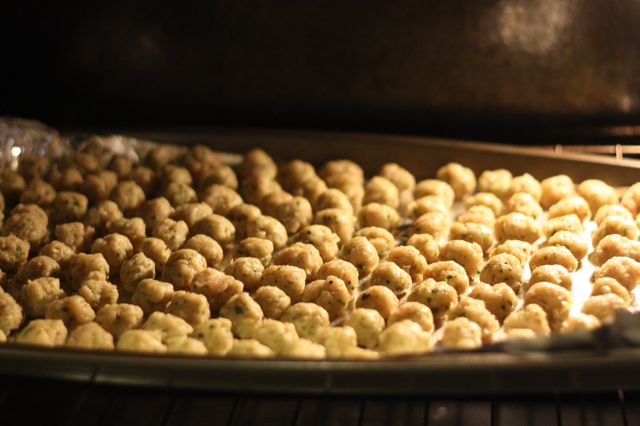 I baked these until golden brown instead of pan frying them because there were sooooo many that would have taken fooooorreeevvveer.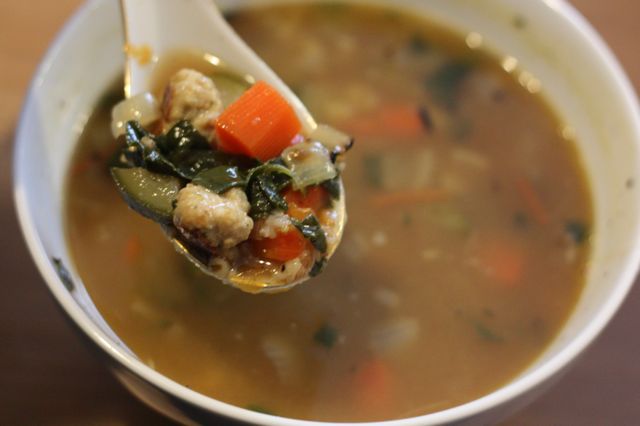 Italian Wedding Soup (Kinda). Then into the stock went the bulgar wheat which I cooked until tender. I then added diced carrots, diced zucchini, diced onions, chopped fresh spinach, fresh parsley, and last but not least the tiny turkey meatballs at the end after all the veggies are cooked.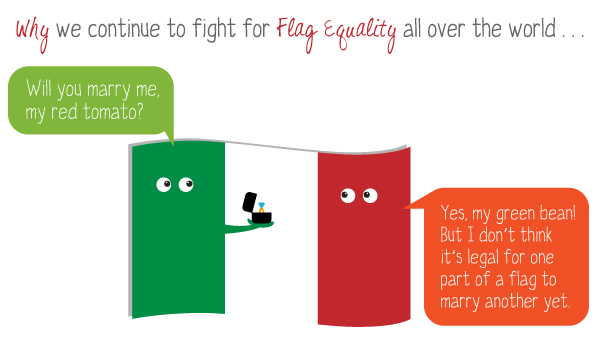 This is the first time I've made roasted cornish game hens. They were sooo delicious! To go with the scrumptious birds I made a tasty garlic gravy from the drippings, a fresh blueberry and mixed greens salad, and creamy brown rice zucchini risotto. Om nom nom nom!
Take a look…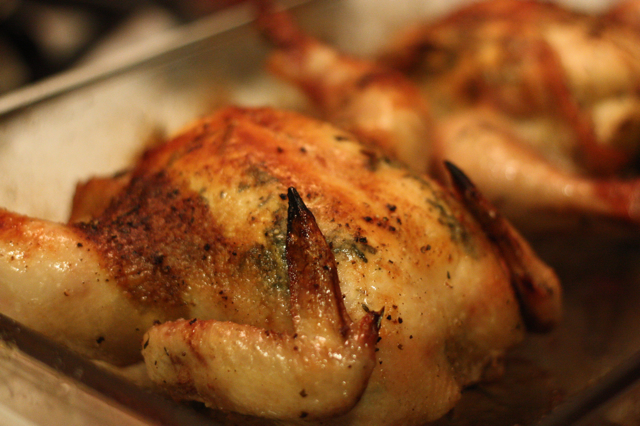 Garlic Roasted Cornish Game Hems. These two hens were roasted at 375 degrees until golden brown and the meat was at 165 degrees. I seasoned the outside with salt and pepper with olive oil and butter and stuffed a salty parsley, butter, garlic & shallot mixture between the meat and skin on the breasts. Last minute I threw about ten cloves of garlic at the bottom of the pan to get all roasty and squishy.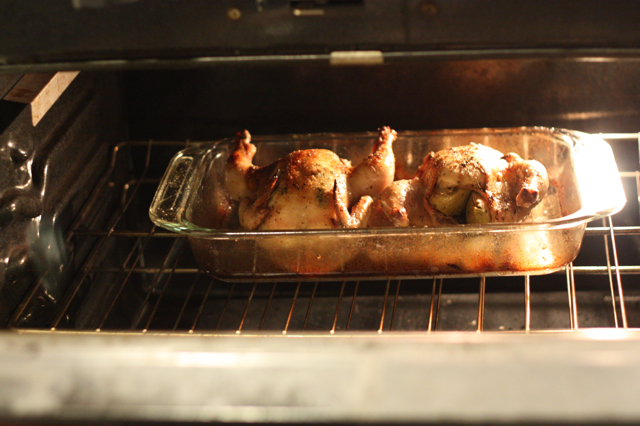 PEEK-A-BOO!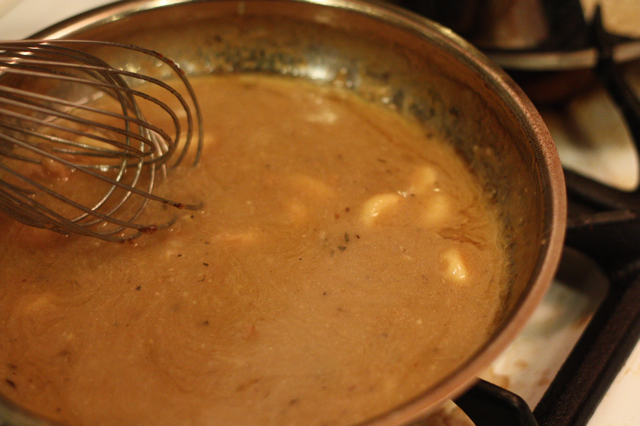 Mmmm gravy. I just made a simple gravy foam the drippings and some sherry using a roux.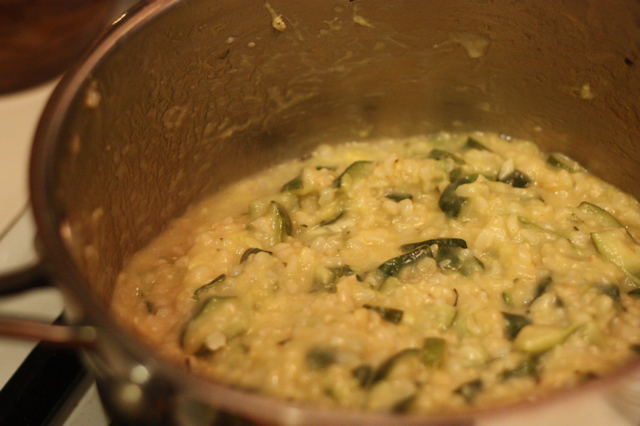 Brown Rice Zucchini Risotto. Made some risotto out of left over brown rice, chicken stock, zucchini, shallots, thyme, and parmesan. I just cooked he risotto on medium low, stirred until it was creamy, I added the parmesan and zucchini in closer to the end so the zucchini would get to squishy and the parm wouldn't burn. So good and easy!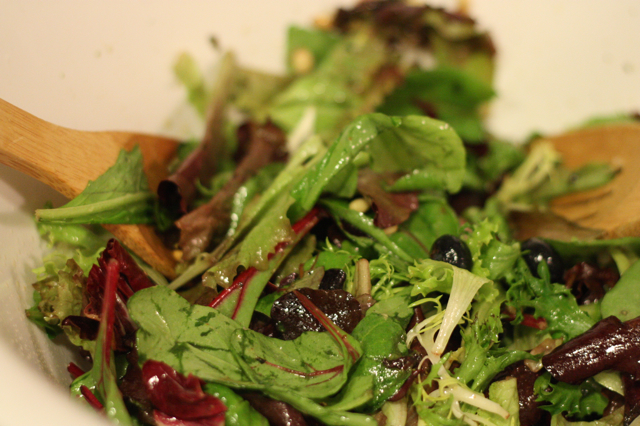 White Balsamic and Blueberry Salad. Sooo easy and delicious. White balsamic and extra V olive oil dressing with some mixed greens, blueberries, and pine nuts. I've gotten into the habit lately of putting pine nuts in EVERYTHING! Who doesn't love pine nuts?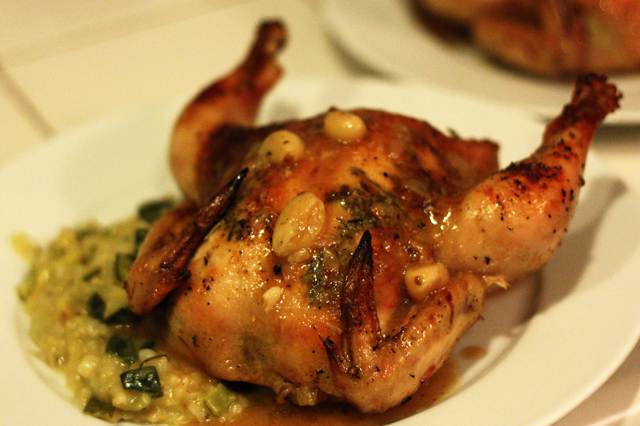 Now put is all together. Look who came for came for dinner!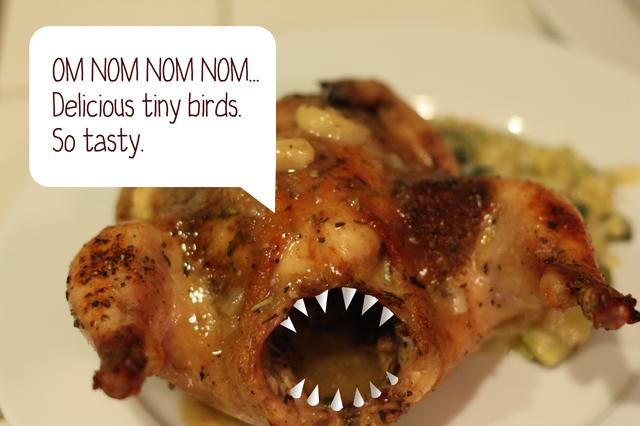 Meet Hungry Hen-rietta. She will eat your foods!
After we finished the the yummy cornish hen bits I made a stock out of the left over bones. All it takes is a couple of carrots, onions, stocks of celery, and some thyme and parsley. Slap these all to gather in your handy pressure cooker (or stock pot) and you have a base for tomorrows meal. I made Matzo Ball soup!
You need to know…
I'm a graphic designer by trade and a cook by hobby.
I've just moved back to my home state of California from Boston, Mass. My array of available fresh ingredients has just multiplied like a group of happy bunnies.
I will cook anything and everything. I also like to eat, a lot! Let me show you what I'm cooking and eating.
What's been cooking…