After a very adorable wedding for my good friends Alex & Erica in Northern, Northern California I flew up to Portland because I was ever so close and had never been there. While the city was a little sleepier than I imagined it would be there was some FREAKIN' DELICIOUS food there. Take a look….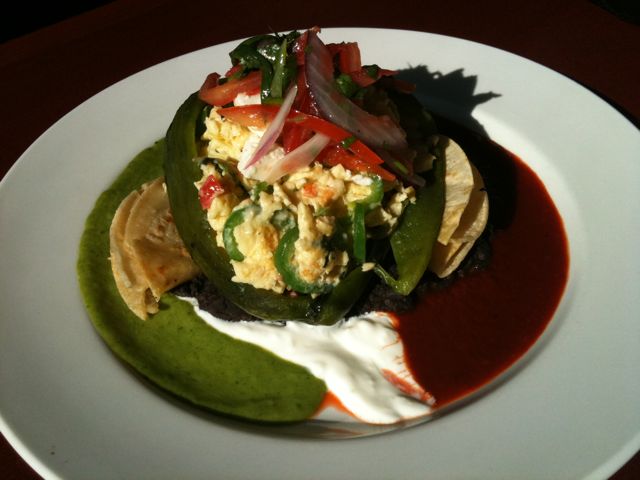 Jalapeño Scramble Stuffed Poblano Pepper. This picture is making me drool all over again. It was so scrumptious I forgot to take a picture. This is the scramble of the lady sitting next to me who I convinced to get the same thing because it was AMAZING and she let me take a couple of quick snaps. We ended up talking about Portland with her for about an hour. She basically told us that while she felt a familiar fondness for the city, she would never move back there. Ha! Ooops! We were totally going to move to Portland. Now what do we do?!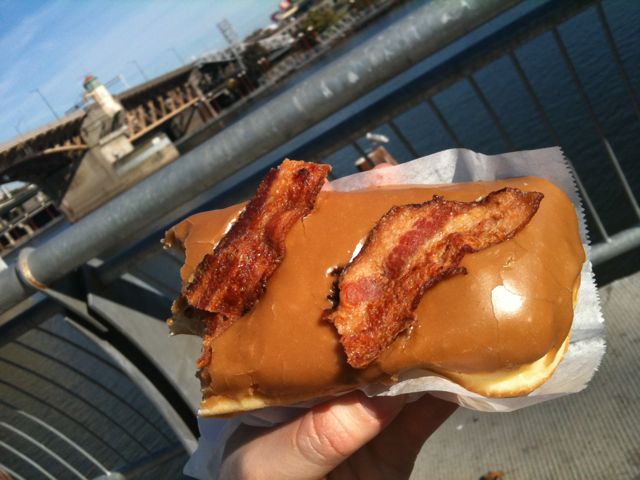 The Bacon Maple Bar from the famous Voodoo Donuts. This crazy concoction was everything I ever wanted in a donut. Maple bars are my faaaavorite donuts already and then they added my favorite meat on top. WHAT?! Bacon? I felt like that that dog from the Beggin' Strips commercial…
Hahahaha! This is basically how I feel about food all the time.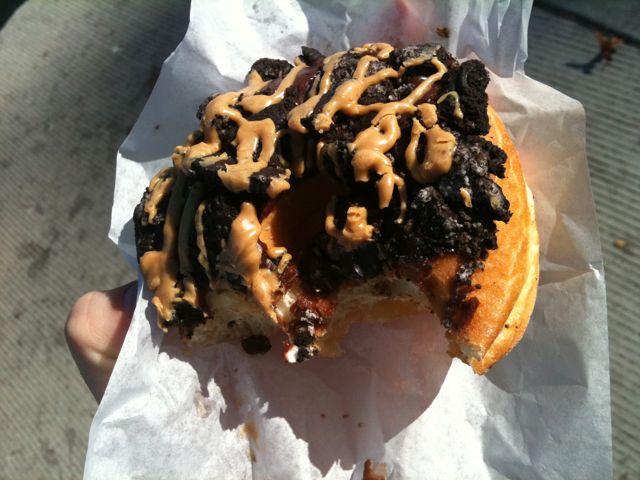 The Old Dirty Bastard Donut, also from Voodoo Donuts in Portland. I thought I'd be different and get something besides the beloved bacon maple heaven bar. But even though this donut covered in oreos, chocolate glaze, and peanut butter was very good it wasn't my favorite. I think you know my favorite.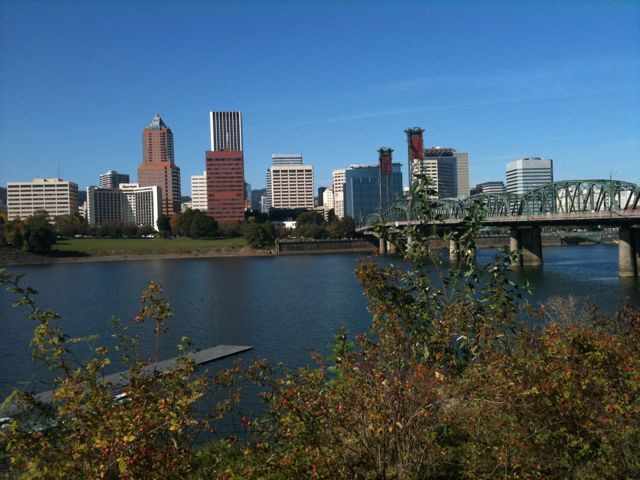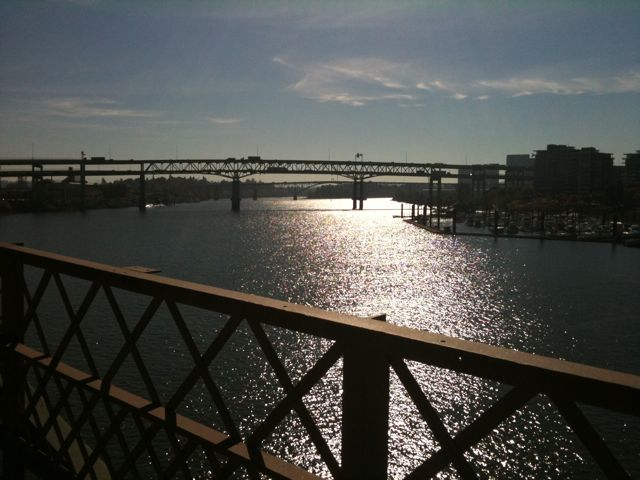 Portland's pretty.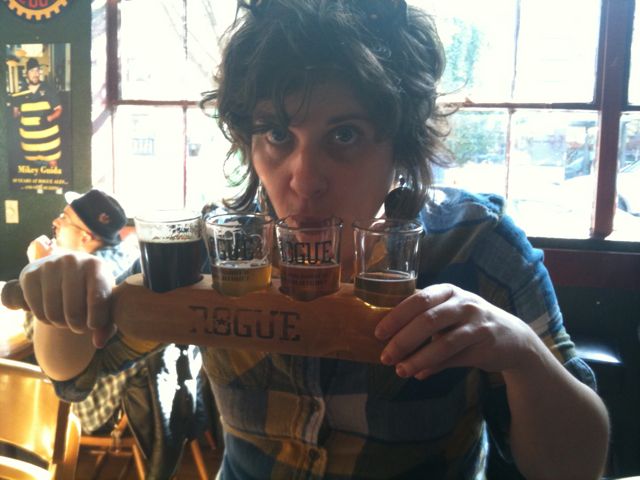 We visited the Rogue Tasting Room and Distillery. They don't brew the beer here because it's a tiny place in the middle of a city, but they do distill many spirits in a tiny, tiny nook upstairs. This itty-bitty distillery is how I imagine people made booze during the prohibition era.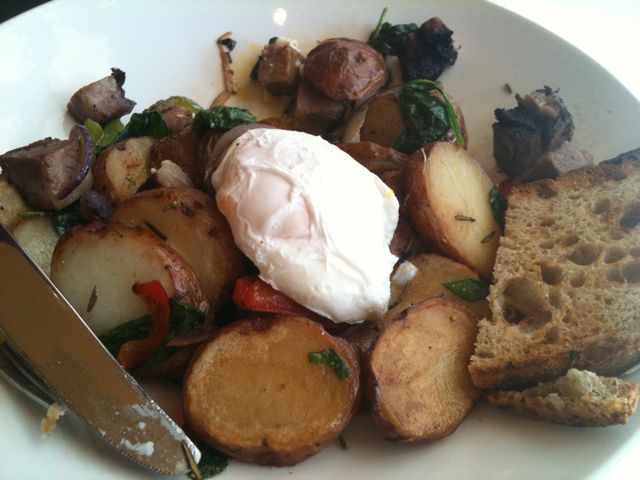 Brisket Hash with a poached egg. Brisket, peppers, onions, spinach, and topped with a poached egg at the Three Degrees Restaurant at RiverPlace Hotel. Very very yummy, but it wasn't my meal so I only swiped a couple of bites when my brunch companion wasn't looking. Nom nom nom.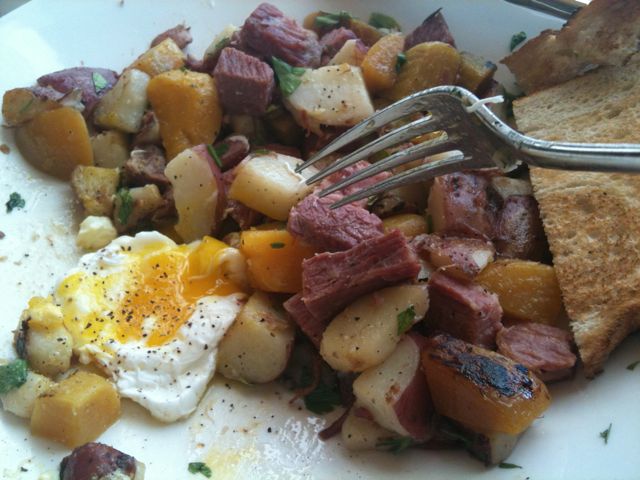 Flannel Hash with a poached egg. Big chunks of corned beef, roasted golden beets, and red potatoes, and topped with a poached egg also at the Three Degrees Restaurant. This was my meal, and as you can see it was so delicious I could barely contain myself. We also both got real sourdough toast, which is super hard to come by on the east coast. Who loves sourdough bread?! Meeeeee!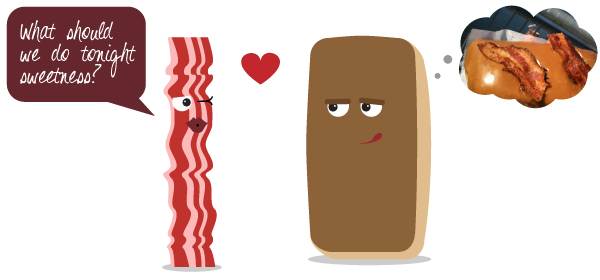 …mmmm, Bacon Maple Bar revisited. This is how I imagine the union happened.
2 Comments
You need to know…
I'm a graphic designer by trade and a cook by hobby.
I've just moved back to my home state of California from Boston, Mass. My array of available fresh ingredients has just multiplied like a group of happy bunnies.
I will cook anything and everything. I also like to eat, a lot! Let me show you what I'm cooking and eating.
What's been cooking…